Cine-concerts at the Auditorium of Lyon
TICKETS ON SALE NOW!
15 € / 13 € for accredited members

Purchase tickets online
Buster Keaton Night

Tuesday, October 11 at 8pm

by the National Orchestra of Lyon directed by Timothy Brock

One Week (1920, 25 min)
followed by Sherlock Jr. (1924, 45 min)

Thanks to Cohen Films, Cineteca di Bologna and Park Circus

Cine-concert with organ

Sunday, October 16 at 10:30am

Improvised organ accompaniment by Thomas Ospital


The Inhuman Woman by Marcel L'Herbier (1923, 2h03)


Thanks to Lobster Films.

The National Orchestra of Lyon
Leonard Slatkin, Musical Director

Heir to the Society of Grand Concerts in Lyon, founded in 1905 by Georges Martin Witkowski, the National Orchestra of Lyon (ONL) became a permanent orchestra in 1969 under Louis Frémaux, its first musical director. Ever since, it has been administered and funded by the City of Lyon, who endowed it with a 2000-seat concert hall in 1975, the Auditorium. Since 1983, the ONL has focused on a symphonic repertoire, whose caliber is reflected in numerous international tours and a rich discography policy. Its previous musical directors included Louis Frémaux (1969-1971), Serge Baudo (1971-1986), Emmanuel Krivine (1987-2000), David Robertson (2000-2004) and Jun Märkl (2005-2011). American conductor Leonard Slatkin has served as Musical Director since September of 2011.



The Auditorium of Lyon
The enormous fully-prestressed concrete monolith, the Auditorium of Lyon is an impressive structure in the heart of the Part-Dieu neighborhood. Designed by Charles Delfante, urban planner and chief architect of the Part-Dieu, and by Henri Pottier, Grand Prix de Rome, the Auditorium was inaugurated on February 14, 1975, after over three years of colossal work that required nearly 40,000 tons of concrete and 830 tons of steel!



The Cavaillé-Coll/Gonzalez/Aubertin Organ of the Auditorium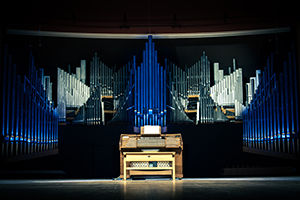 © David Duchon-Doris
Built for the Universal Exposition of 1878 and the palace of the Trocadero in Paris, this monumental instrument (82 keys and 6,500 pipes) was the "showpiece" of the renowned French organ builder of his time, Aristide Cavaillé-Coll. The finest musicians have rushed to the pulpit of this prestigious organ, performing the Requiems of Fauré and Duruflé for the public, as well as key pieces by Franck, Widor, Messiaen and many other composers.
Rebuilt in 1939 by Victor Gonzalez in the new Palais de Chaillot, transferred in 1977 to the Auditorium of Lyon by its successor Georges Danion, the organ underwent a 2013 renovation by Michel Gaillard (Aubertin manufacturing), restoring its original splendor. The Organ of the Auditorium is one of three grand concert hall organs in France, with its two Parisian organs.
---

With the support of the Sacem
The National Orchestra of Lyon Leonard Slatkin, Musical Director