DVD Market 2016

With nearly 5,000 films to choose from this year, the Lumière festival makeshift DVD Market breaks a new record!
Located in the festival Village, the DVD Market will opens its doors on Friday, October 7 at 7:30pm and will remain open from 10:30am to 9pm throughout the festival.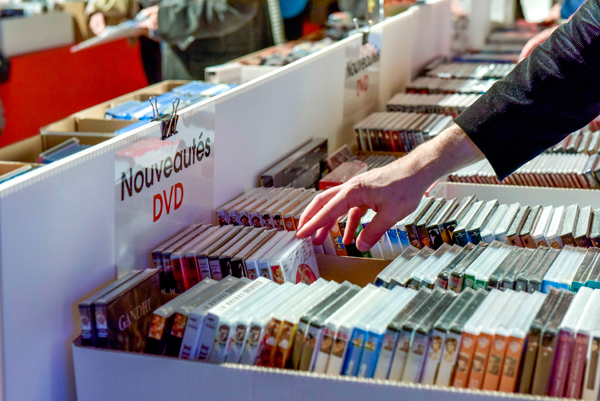 © Institut Lumière / Photo Jean-Luc Mège


In Lumière Award 2016 colors, discover the "Catherine Deneuve" video club, including her filmography, her inspirations and recommendations, and other references to her universe, such as great films directed by women or masterpieces made by her filmmaker friends.
Browse the films on this year's lineup, from Buster Keaton to Marcel Carné, and don't forget to check out works by special guests who will introduce their films and other personalities honored at the 8th edition of the festival such as Park Chan-wook, Gaspard Noé, Gong Li…
The market will satisfy casual movie fans and grand connoisseurs alike. With over 20 sections, the DVD market welcomes four new categories this year: world cinema, animation, German cinema and Scandinavian cinema.
Included in this year's selection, recommendations by the American Film Institute and the British Film Institute as well as a "Tributes" section that pays homage to Jim Harrison, Michael Cimino, Abbas Kiarostami and Chantal Akerman.
To mark the film premiere of "Journey Through French Cinema" by Bertrand Tavernier, a section of the market will be entirely dedicated to him. You can (re)discover the filmmaker's works, and find movies he refers to, including those from his feature film.
This year, shake in your boots with the Universal Monsters or peruse a selection of movies from the 1970s, sent especially for the festival by American director and Lumière Award 2013 recipient, Quentin Tarantino.
The DVD Market is also all about exclusive titles, events, guests and news to follow on the BLOG or on the social networks of the festival!
And finally, a friendly and enthusiastic team will be happy to help you with information and advice!


© Institut Lumière / Photo Loic Benoit
Opening hours:
Village DVD Market
Opens on Friday, October 7 at 7:30pm
From October 8-16, 2016 from 10:30am to 9pm
DVD market sections:
The filmography of Catherine Deneuve, including her inspirations, references and recommendations from the universe of the actress, an emblem of French cinema.

The section "Program Lineup" features many films presented at this year's festival and includes works by guests and personalities honored at this 8th edition.

A selection of the top 100 films of all time according to the American Film Institute

Movies to see by age 14 according to the British Film Institute

Great films from past editions of Lumière

Bertrand Tavernier's selection related to "Journey Through French Cinema"

Blu-Ray

New films

Timeless Classics

Comedy

Dramatic Comedy

Comédie Dramatique

Action - Adventure - War

East European films

Asian cinema

Italian cinema

Thriller - Crime - Suspense

Western

Science Fiction

Period films

Musical comedies

Kids/ family

Documentaries and Experimental films

Animation cinema

World cinema

German cinema

Scandinavian cinema


© Institut Lumière / Photo Jean-Luc Mège


© Institut Lumière / Photo Loic Benoit
The DVD Market is brought to you thanks to the collaboration of