---
PostED ON OCTOBER 9, 2016 AT 12AM

---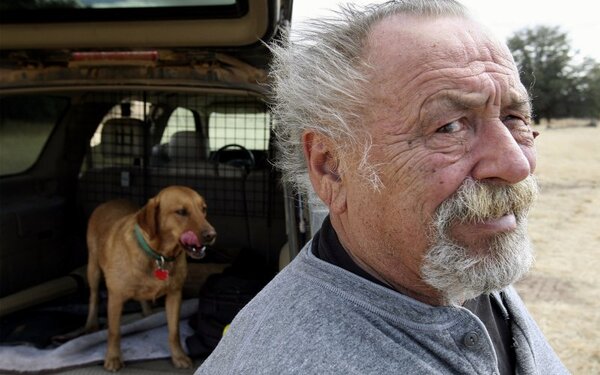 He was both American and French
The legend lends Jim Harrison perfectly plausible ancestors: Rough Swedes armed with bibles and guns, a tempestuous mother, a "hard-working and melancholy" father. From Dakota to Michigan, he has continued to live on the edge of the American dream, frightened by progress, leaning on a lifestyle where simplicity and a sense of sharing serve as indispensible moral compasses. He has enjoyed obvious success in the US, but his French friends always vigorously praised this Obélix, capable of standing his ground against administrative and political aggressors of all stripes. Harrison revered Bachelard - and the lot of French poets - more than Hemingway. He appreciated the culinary offerings, the wines, the tiny countrysides and the sense of hospitality of France. Hosts treated him well, in return greedily devouring his stories of bears and Indians wandering the Great Plains.
He was wary of cities and men
Lost on the shores of Lake Michigan, Lake Leelaneau where he lived, is not a particularly schizophrenic metropolis. However, sufficiently bustling enough to encourage Harrison to take refuge further away, in a log cabin lost in the woods, whenever the urge overtook him to concentrate on a book. With the birds - of which he could effortlessly identify six hundred species - this emulator of Muir and Thoreau could finally shake off his chains and recover his inner animal. The work of Harrison moves, gallops, barks in the middle of a primal continent, where the only matters of importance are the conquest of sustenance and territories and all the challenges related thereto.
He loved the cinema more than the cinema loved him
Since "Dalva," "A Good Day to Die" or "Sundog" were written in Cinemascope, one would assume from the get-go, that Jim Harrison's literature would naturally be attuned to motion pictures. Not so simple. Like Faulkner or Fitzgerald before him, the generous purveyor of larger-than-life epics journeyed to Hollywood, and had his pen broken more often than not. His numerous attempts (with Huston, Lean, Scott, Nicholson) were more or less either successful or abandoned, but never completely satisfactory. "Legends of the Fall" is an exception, of course, in which Harrison certainly would have preferred "more blood and mud," but whose spirit he loved perfectly.

Benoît Heimermann