---
PostED ON OCTOBER 14, 2016 AT 6PM

---

She tapped into her natural reserve to speak for an hour and a half, with her characteristic elegance. In the encounter, hosted by Bertrand Tavernier and Thierry Frémaux, she addressed the festival audience, speaking about her roles, about directors who were important to her career and her life, her acting techniques… Highlights.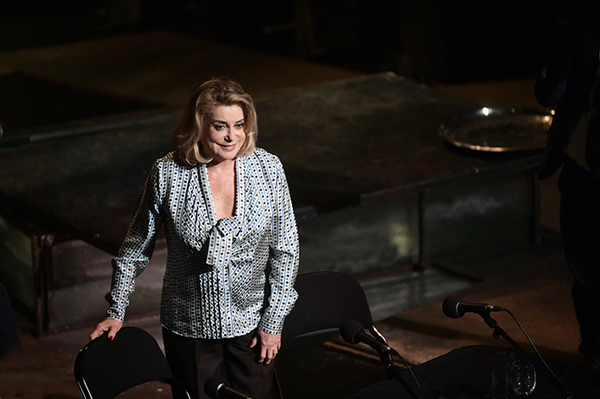 © Institut Lumière / Photo Olivier Chassignole


Receiving a tribute
"For actors, there is always a sense of illegitimacy. Due to the fact that it may be disproportionate to what we live or what we feel, to what we are (...) Today, I am "the one and only" for a few hours here. I do not consider myself an auteur, at least not in its pure sense. Actors are first and foremost interpreters. Yet by the decisions we made, the directors we chose to work with, the roles we wanted to play, then yes, perhaps we are also authors. Making choices is what is most difficult. We mainly choose based on the story and the director. "


In the beginning: Jacques Demy
"My great luck was working with important directors at quite a young age, when I débuted. So it's true, when you have the opportunity to meet Jacques Demy - I wasn't even twenty when I met him - it is still something that greatly matters in your life. It's a way of looking at the cinema that was very important to me; Yes, he greatly influenced me."

Wanting to work with Lars Von Trier
"I had just seen Breaking the Waves, which had totally overwhelmed me. So I wrote to tell him that if he ever shot a movie in France, I would be very happy to meet him. He responded by telling me that he finally decided to give up this film. However, he was preparing a musical with Björk and suggested I play the role of an actress for whom he had initially imagined for a black American actress. "Obviously," I said. (...) At the time, I was making Place Vendôme with Nicole Garcia - I took a plane on the weekend and met him. That is how it happened. (...) I was interested in working with him and I was also curious to meet Björk, a singer that I like very much, a wholly amazing character."


The two sides of Luis Buñuel

"He had a dark, tormented universe, but at the same time, he had a lot of humor, which appears in many of his films. He was a truly astonishing person. (...) A French producer had bought the rights to the novel Tristana by Benito Perez Galdos, which Buñuel had wanted to bring to the screen for a long time. He was so happy to return to Spain, because he had lived in Mexico and this was the first time since Viridiana he could return - it was really another aspect of his personality that I could not have imagined before. He was a lot happier, much merrier; he even came over for dinner at my place at night, which is very surprising, because he never went out."
Abandoning oneself to a director
"The idea is still to let the director do his or her job, which doesn't mean we have no ideas or cannot ask questions... but in principle, what I want is to abandon myself a little and tell myself that I completely trust the director, while still keeping a critical eye. I have trouble imagining actors working alone or with someone other than the director, getting ahead of the film. "
An American career?

"Frankly no, the opportunity did not present itself. I made two films there and I did not wish to stay at the end of the shooting, because I wanted to return to Europe - but mostly, I hadn't received very interesting proposals. I cannot really say I refused an American career. I think if the two movies were huge successes, it would have undoubtedly changed things, but it was not the case. (...) It would be difficult for me to live outside of France, I am not very Parisian, but I am very French; I feel more French than Parisian."
Françoise Dorléac: close and yet so different
"She was quite extravagant and eccentric in her way of being, of feeding herself, of living with animals and stuffed animals. But in real life, she was much more reasonable, not so greatly extravagant in the end. I was doing what I wanted to do, the way I wanted, without openly proclaiming it. I managed to live my life as I wanted, without it becoming a public show. Sisters are more intimate, more violent and more direct - Only 18 months separated my sister and me. We were so close and yet so different, that we were complementary. In a large family - with four girls, so many - each of us had to find a place in the hollow of the other, everyone fitting in the way they could. And it is true that my sister Françoise took up a lot of space."
© Institut Lumière / Photo Olivier Chassignole
The scandal of La Grande bouffe in Cannes in 1973
"I was just accompanying the crew and Marcello Mastroianni, because I was following the shooting of the film, so I was not too involved. Still, I was quite stunned by the violence: there was even a woman who spat on Marco Ferreri, I was appalled, but it's true that it's a pretty disturbing film. Cannes is very particular, with both cinema people Cannes residents, resulting in a highly contrasted crowd."
Friend and filmmaker André Téchiné
"With André Téchiné yes, there is companionship. When you meet certain directors and you speak with them before or after the movie, there are things that are put into place differently. I'm not sure I would have written to Lars von Trier a decade earlier, for example. But it could also be the result of more personal things that are occuring with filmmakers such as André Téchiné or Christophe Honoré, Gaël Morel. (...) I have known André Téchiné for over 20 years - we made several films together. In real life, he is a friend; it's a rather particular relationship. There are directors whom I was close to who are no longer here, like François Truffaut or Claire Denis."


Did you say film-buff?
"I watch a lot of films, a lot of French movies of course, many Asian flicks too. I also read the reviews, so I often decide to see movies that are not always big commercial successes. I saw The Wailing by Na Hong-jin and I really like Chinese director Jia Zhangke. I like Asian cinema very much. But I love French cinema because it's still my language, there is something that is unique, and when it works well, it is something that transports you."


Passionate Truffaut

"He loved actresses, actors, the cinema - it was his passion, his life. He was found the films much more interesting than life; our conversation was always centered on this, since I found life was much more interesting than the cinema. We would go to the movies together. He was really a tremendous actors' director, he was so passionate."
Preparing a role
"For me, the preparation involves the idea of absorbing the story, of reading the story, reading certain passages... I do not work much alone beforehand; I try to get a sense of the character, while remaining very open to what the director will do. (...) On set, I have more of an attitude of immediate concentration from the time I arrive, which I let go of as soon as I'm off the set. I feel that my batteries need to be recharged often. The intensity that I carry on the set forces me to rest (...) Expectations of the actors is never empty, never hollow, there is always something that continues to live on and to fight inside you."
Rebecca Frasquet