---
PostED ON OCTOBER 10, 2016 AT 11AM

---
Like the oval framing actors' faces in the credits of some certain films by François Truffaut, the three feature films screened this Sunday, October 9 show three faces of Catherine Deneuve of the same era. Three enigmatic ovals of an actress who offers no explanation, but whose precise expressions convey the specific nature of her talent. She is at once the Mississippi Mermaid (François Truffaut, 1969), Tristana (Luis Bunuel, 1970), and the princess of Donkey Skin (Jacques Demy, 1970).

Mississippi Mermaid

"Ugly at last!" It is the finest, wittiest, and also most specific line said to the face of Catherine Deneuve. This spontaneous outburst explodes suddenly in the thriller by intimately destructive yet good-natured François Truffaut. Deneuve will convey a face distorted by greed, but also frustrated by love. When her partner, Jean-Paul Belmondo pronounces these words, he says it assertively, as a relief, one of possibly being able to escape the devouring and devious mermaid beauty, played by a Deneuve who wears an expression of contempt.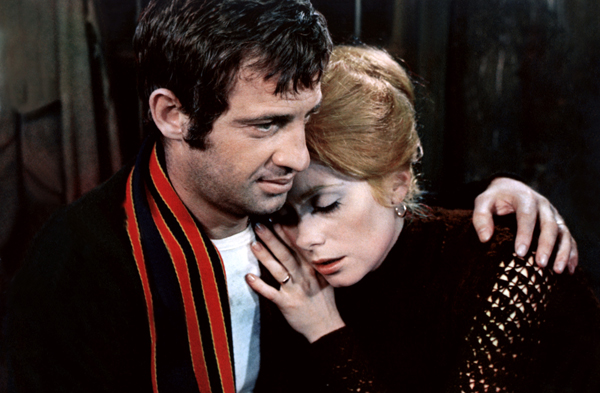 Tristana
Observed from above, without the slightest trace of a smile, the face of redhead (like in Mississippi Mermaid) Tristana-Deneuve is so smooth and beautiful that only the eyes, expressionless as she surveys the world around her, reflect the internal state of the heroine, who has been killed alive. She is becoming Tristana, the image of true sorrow, full of hardness and hollow, no longer able to feel anything ever again. The face of Deneuve becomes an abstraction, a complete portrait à la Luis Bunuel, a definitive evil enchantment, silent, but staring at you for a long time.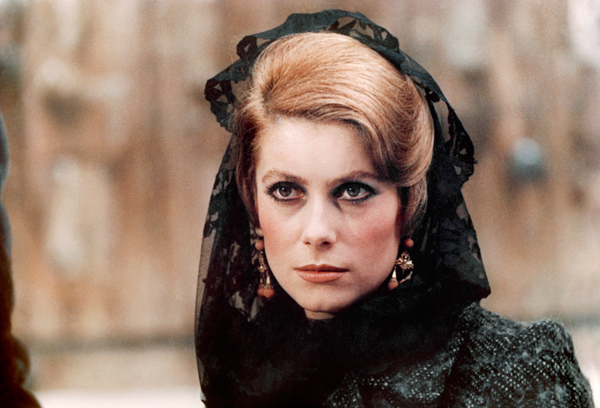 Donkey Skin
The beauty of Catherine Deneuve is so conducive to princess status of fairy tales that she can't help but radiate. Here, her wry, Mona Lisa visage will not let a single word escape. With a faint, imperceptible smile on her lips, the Donkey Skin princess gazes at her prince through her small (oval) dressing table mirror, sending a look, indirect yet direct, to the viewer, overtaken by the mischievous and self-assured enchantment of the actress. A perfect blonde, thick hair framing the forehead, cheekbones and mouth, Deneuve displays a face without tragedy, yet extremely enigmatic. More modern than Disney princesses of today! This face is not content to do what it wants, it contemplates possibilities.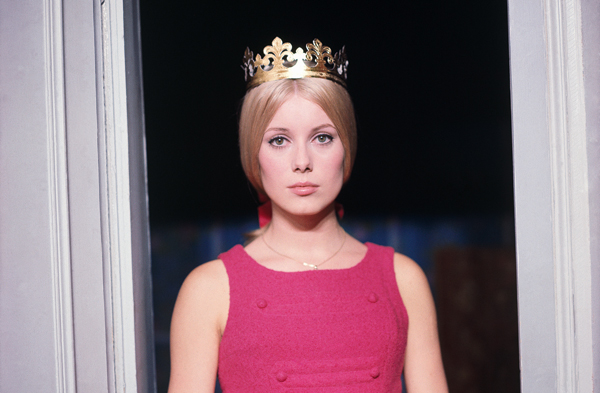 ® 2003 succession Jacques DEMY

Virginie Apiou
---
> Mississippi Mermaid by François Truffaut (1969, 2h03)
Comœdia Tue. 11 at 2:30pm l Pathé Bellecour Thu. 13 at 10:45am l Pathé Vaise Sun. 16 at 3pm
Information and tickets
> Tristana by Luis Buñuel (1970, 1h40)
Bron Tue. 11 at 8:h30pm l UGC Astoria Wed. 12 at 8:h30pm l Institut Lumière Thu. 13 at 7:15pm
Information and tickets

> Donkey Skin by Jacques Demy (1970, 1h29)
Pathé Bellecour Tue. 11 at 11am l Sainte-Foy-lès-Lyon Sat. 15 at 5pm l UGC Astoria Sun. 16 at 2:30pm
Information and tickets