---
PostED ON SATURDAY , OCTOBER 15, 2016

---
"Love is blind and its cane is pink," goes the Gainsbourg aphorism; literally depicted in Daybreak, when the film is about to engage in one of the most remarkable flashbacks in the history of cinema (some claim it to be the first.) The blind man is exactly in the staircase, when the body of the infamous Valentin (a tremendous Jules Berry) comes tumbling down, paying a high price for a storybook romance. A bullet is jerkily fired off by Jean Gabin (François), exasperated. But let's not get ahead of ourselves…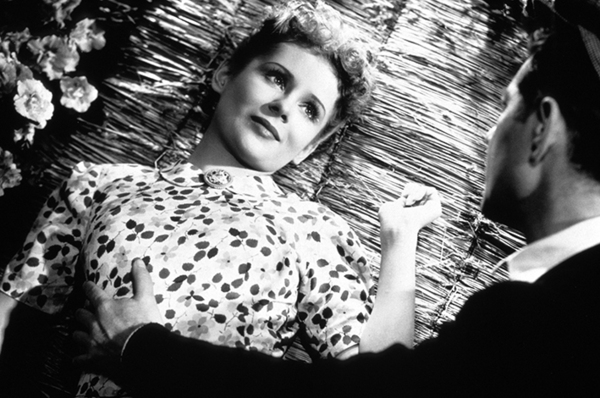 Have modern Parisians never noticed, at the corner of every avenue, street, or boulevard of importance of the capital, there exists a building, several stories high, erected in stone, covering its bourgeois apartments day and night (like an owl waiting for her babies to hatch), and so often isolated, idiotically set up? Baron Hausmann wished for each of these elevations to provide the "thee" factor to the aesthetics of the buildings, which were to be joined. It is an obvious, laughable and visible failure to anyone with a pair of eyes.
All that to say that where François lives in the movie has nothing - and everything - to do with it. We see him mulling his misfortune throughout the entire film, in a modest furnished room, nestled under the roof of one of those corner buildings so inordinately high that it seems all the more lonely. This is the stroke of genius of Alexandre Trauner, who "multiplied" the floors to better underline the hero's solitude. It's like an isolated watchman atop his tower, a guard crippled by love, abandoned by all, in a depressing suburb, just waiting for war. Add the talent of sumptuously expressionist photography designer Curt Courant, the chief operator of German origin, who learned his craft from masters such as Fritz Lang or Max Ophuls - and you attain the excellence of the genre called poetic realism.
This combination of technical and artistic talents - one must mention in addition to the famous duo Carné / Prévert, the beautiful Arletty, still stunning - will lead to positive film reviews... Yet the Vichy government, a few months after its release, will ban the film - the censors deem the work too demoralizing!
Pierre Collier
---
Daybreake by Marcel Carné (1939, 1h33)