---
PostED ON OCTOBER 14, 2016 AT 2PM

---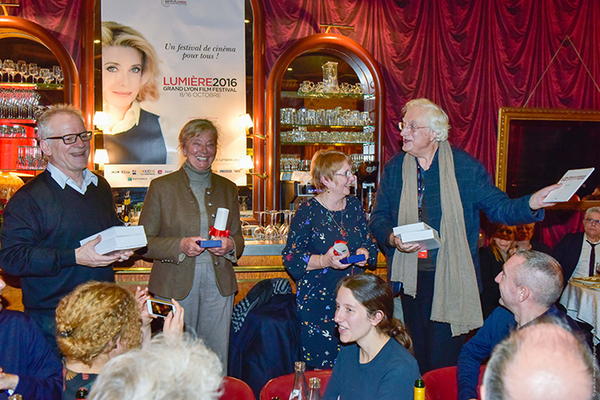 © Institut Lumière / Photo Jean-Luc Mege
Created this year, the Fabienne Vonier award was bestowed upon two women of Losange Films, producer Margaret Menegoz and distributor Régine Vial.
After acknowledging the presence of Catherine Deneuve, Vincent Lindon, Michel Hazanavicius or Jerry Schatzberg (about to celebrate his 90th birthday) and others, Thierry Frémaux and Bertrand Tavernier presented the women with the Fabienne Vonier award, "honoring women in the cinema who accompany the artists."
Thierry Frémaux then reminded us of the important role of women in the world of international cinema, and the special place held by Fabienne Vonier, producer and distributor, with whom in particular he spent memorable moments, like during a restless night in the company of Finnish director, the picaresque, Aki Kaurismaki. At that point, Thierry Frémaux called over Régine Vial, commenting, "She possesses all these qualities, except that she's from Saint-Etienne!"
Award in hand, the Losange Films distributor paid a tribute as well: "Fabienne Vonier was sought after by authors from around the world. She was interested in the first films. We share this passion with her." Margaret Menegoz added, in conclusion, "Fabienne was like a of sister of the cinema."
Virginie Apiou