---
PostED ON OCTOBER 16, 2016 AT 11AM

---
As tradition dictates, a remake of cinema history's first film, "Leaving the Lumière Factory," was shot on Saturday afternoon. It gave Catherine Deneuve (preceded by Park Chan-wook and Costa-Gavras) the opportunity to pass behind the camera for the first time, with an A-list cast, an open script and various "surprises."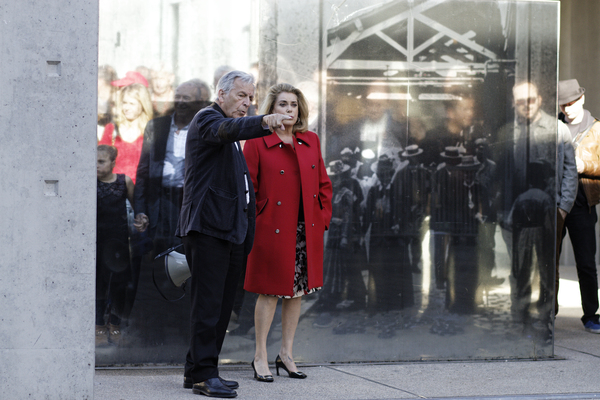 © Institut Lumière / Photo Lea Rener
"Catheriiiiiine!" Behind the gates of the Hangar, the regulars are ready to immortalize the scene. In a few minutes, Catherine Deneuve will swap her acting cap to direct her first film, the remake of the traditional "Leaving the Lumière Factory." After launching the tradition in 2013, Quentin Tarantino will be in front of the lens this year.
Lumière caps, sunglasses and cell phones in hand, the first remake of the day is directed by Park Chan-wook. Before Thierry Frémaux shouts out the first instructions through a megaphone, the actors prepared their entrance: Hippolyte Girardot straddles a bike, in homage to the original film, Rod Paradot and Joséphine Japy engage in an impromptu carry.
The second director is up for the remake this Saturday: Costa-Gavras gives some indications before the shoot: "Catherine will be in the foreground. The rest of you will follow the camera by making little signals or gestures. The camera will be placed to the right." "And about the accessories?" worries Sandrine Kiberlain. This time, no caps, no shades. Winks, hand gestures- certain actors play up photos between takes. Afterwards, each participant discovers the film that has just been shot, amused at the improvisations of his neighbor.
It is finally the turn of Catherine 'Deniouv' (quoting Tarantino) to get behind the camera. A first effort not to be missed: "She said she doesn't want to become a filmmaker, so if you want to be in a movie by Catherine Deneuve, it's now or never!" warns Emmanuelle Bercot. The actors listen attentively to the last guidelines given by the latest Lumière award recipient: "No matter what, I will film within a single frame, but feel free to do whatever you want- for example, someone can smoke, kiss, everything will be shot in fluid motion." Her directions are followed to the letter by Julie Depardieu, who plants a kiss on her friend, Ludivine Sagnier.
In the Institut Lumière theater, the remake review by new filmmaker Catherine Deneuve is unanimous: "Your film is really beautiful, Catherine!" comments Marisa Paredes to the director of the day. Perhaps it will inspire Deneuve in the future, the first woman to receive the Lumière Award. One thing's for sure -she has just directed the newest remake of "Leaving the Lumière Factory."

Laura Lepine