---
PostED ON OCTOBER 23, 2016 AT 11:36AM

---
Vincent Lindon, Roman Polanski, Christophe Honoré, Quentin Tarantino, Jerry Schatzberg, Emmanuelle Bercot, Jean-Paul Rappeneau, Bertrand Tavernier, Park Chan-wook, Chiara Mastroianni, Benoit Magimel, Marisa Paredes, Costa-Gavras, and many others came to celebrate Catherine Deneuve. "The most scandalous woman in France, the bad student we all would have liked to have been," summarized the filmmaker Arnaud Desplechin, in a text read by Thierry Frémaux.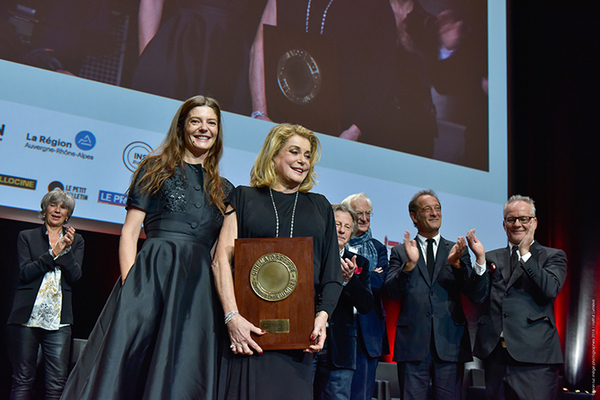 © Institut Lumière / Photo Jean-Luc Mege


Narhalie Dessay then took the stage to sing, "The Umbrellas of Cherbourg" by Jacques Demy. Vincent Lindon pronounced an extraordinarily magical letter addressed to Catherine Deneuve. Speaking of fine cigarettes, hair cream and horticulture, Lindon recreated the Deneuve universe with undeniable love.

Quentin Tarantino succeeded him to underline his unforgettable encounter with the actress when he won the Palme d'Or in Cannes. Tarantino proclaimed Deneuve the best European director!

"The strong wind in the willows. The golden dust in the twilight. The brilliance of cherry blossoms. She illuminates the room." Such was the tribute by Bertrand Tavernier, reciting a Japanese poem.

Polanski simply stated," I love you Catherine!" embracing the actress after presenting her with the Lumière Award.

In an unexpected gesture, Catherine Deneuve dedicated her award to all the farmers of France!

And with the karaoke of the song "I love you," written by Serge Gainsbourg for Claude Berri's film, the ceremony ended on a very sweet note.
Virginie Aspiou
Photos !

Part 1
Marisa Paredes

Copyright Institut Lumière / Photo Sabine Perrin - Jean-Luc Mège

Stanislas Merhar et Gustave Kervern

Copyright Institut Lumière / Photo Sabine Perrin - Jean-Luc Mège

Lambert Wilson

Copyright Institut Lumière / Photo Sabine Perrin - Jean-Luc Mège

Chiara Mastroianni

Copyright Institut Lumière / Photo Sabine Perrin - Jean-Luc Mège

Sandrine Kiberlain

Copyright Institut Lumière / Photo Sabine Perrin - Jean-Luc Mège

Benoît Magimel

Copyright Institut Lumière / Photo Sabine Perrin - Jean-Luc Mège

Quentin Tarantino

Copyright Institut Lumière / Photo Sabine Perrin - Jean-Luc Mège

Quentin Tarantino et Daniella Pick

Copyright Institut Lumière / Photo Sabine Perrin - Jean-Luc Mège

Rod Paradot et Adel Bencherif

Copyright Institut Lumière / Photo Sabine Perrin - Jean-Luc Mège

Bertrand Tavernier et Thierry Frémaux

Copyright Institut Lumière / Photo Sabine Perrin - Jean-Luc Mège

Hippolyte Girardot

Copyright Institut Lumière / Photo Sabine Perrin - Jean-Luc Mège

Costa-Gavras

Copyright Institut Lumière / Photo Sabine Perrin - Jean-Luc Mège

Laurent Gerra

Copyright Institut Lumière / Photo Sabine Perrin - Jean-Luc Mège

Roman Polanski

Copyright Institut Lumière / Photo Sabine Perrin - Jean-Luc Mège

Roman Polanski

Copyright Institut Lumière / Photo Sabine Perrin - Jean-Luc Mège

Vincent Lindon

Copyright Institut Lumière / Photo Sabine Perrin - Jean-Luc Mège

Camélia Jordana

Copyright Institut Lumière / Photo Sabine Perrin - Jean-Luc Mège

Eric Lartigau, Emmanuelle Bercot et Michel Hazanavicius

Copyright Institut Lumière / Photo Sabine Perrin - Jean-Luc Mège

Jerry Schatzberg

Copyright Institut Lumière / Photo Sabine Perrin - Jean-Luc Mège

Park Chan-wook

Copyright Institut Lumière / Photo Sabine Perrin - Jean-Luc Mège

Alice Isaaz

Copyright Institut Lumière / Photo Sabine Perrin - Jean-Luc Mège

Pierre Lescure et Thierry Frémaux

Copyright Institut Lumière / Photo Sabine Perrin - Jean-Luc Mège

Natalie Dessay

Copyright Institut Lumière / Photo Sabine Perrin - Jean-Luc Mège

Catherine Deneuve

Copyright Institut Lumière / Photo Sabine Perrin - Jean-Luc Mège

Catherine Deneuve

Copyright Institut Lumière / Photo Sabine Perrin - Jean-Luc Mège

Catherine Deneuve

Copyright Institut Lumière / Photo Sabine Perrin - Jean-Luc Mège
Part 2

Marisa Paredes

Copyright Institut Lumière / Photo Lea Rener

Daniela Pick et Quentin Tarantino

Copyright Institut Lumière / Photo Caroline Gardin - Jean-Luc Mège

Lambert Wilson

Copyright Institut Lumière / Photo Caroline Gardin - Jean-Luc Mège

Julie Depardieu

Copyright Institut Lumière / Photo Lea Rener

Michel Hazanavicius

Copyright Institut Lumière / Photo Lea Rener

Laure Marsac

Copyright Institut Lumière / Photo Lea Rener

Julie Depardieu

Copyright Institut Lumière / Photo Caroline Gardin - Jean-Luc Mège

Eric Lartigau

Copyright Institut Lumière / Photo Lea Rener

Catherine Deneuve

Copyright Institut Lumière / Photo Lea Rener

Thierry Frémaux

Copyright Institut Lumière / Photo Sabine Perrin - Jean-Luc Mège

Les invités de la cérémonie

Copyright Institut Lumière / Photo Sabine Perrin - Jean-Luc Mège

Le clip dédié à Catherine Deneuve

Copyright Institut Lumière / Photo Sandrine Thesillat - Jean-Luc Mège

Natalie Dessay et Laurent Naouri

Copyright Institut Lumière / Photo Sabine Perrin - Jean-Luc Mège

Natalie Dessay et Laurent Naouri

Copyright Institut Lumière / Photo Sandrine Thesillat - Jean-Luc Mège

Natalie Dessay

Copyright Institut Lumière / Photo Sandrine Thesillat - Jean-Luc Mège

Park Chan-wook

Copyright Institut Lumière / Photo Lea Rener

Quentin Tarantino

Copyright Institut Lumière / Photo Sabine Perrin - Jean-Luc Mège

Quentin Tarantino

Copyright Institut Lumière / Photo Jean-Luc Mège

Quentin Tarantino

Copyright Institut Lumière / Photo Sabine Perrin - Jean-Luc Mège

Lambert Wilson

Copyright Institut Lumière / Photo Sabine Perrin - Jean-Luc Mège

Lambert Wilson

Copyright Institut Lumière / Photo Jean-Luc Mège

Lambert Wilson

Copyright Institut Lumière / Photo Sabine Perrin - Jean-Luc Mège

Vincent Lindon

Copyright Institut Lumière / Photo Jean-Luc Mège

Roman Polanski

Copyright Institut Lumière / Photo Jean-Luc Mège

Roman Polanski et Catherine Deneuve

Copyright Institut Lumière / Photo Sabine Perrin - Jean-Luc Mège

Lambert Wilson, Chiara Mastroianni, Quentin Tarantino et Bertrand Tavernier

Copyright Institut Lumière / Photo Jean-Luc Mège

Quetin Tarantino

Copyright Institut Lumière / Photo Jean-Luc Mège

Catherine Deneuve

Copyright Institut Lumière / Photo Jean-Luc Mège

Roman Polanski et Catherine Deneuve

Copyright Institut Lumière / Photo Caroline Gardin - Jean-Luc Mège

Bertrand Tavernier, Lambert Wilson, Catherine Deneuve, Roman Polanski et Thierry Frémaux

Copyright Institut Lumière / Photo Jean-Luc Mège

Catherine Deneuve et Roman Polanski

Copyright Institut Lumière / Photo Jean-Luc Mège

Catherine Deneuve et Roman Polanski

Copyright Institut Lumière / Photo Lea Rener

Catherine Deneuve et Roman Polanski

Copyright Institut Lumière / Photo Lea Rener

Chiara Mastronianni, Catherine Deneuve et Thierry Frémaux

Copyright Institut Lumière / Photo Sandrine Thesillat - Jean-Luc Mège

Bertrand Tavernier, Vincent Lindon, Catherine Deneuve et Vincent Lindon

Copyright Institut Lumière / Photo Jean-Luc Mège

Bertrand Tavernier, Lambert Wilson, Catherine Deneuve, Quentin Tarantino et Vincent Lindon

Copyright Institut Lumière / Photo Jean-Luc Mège

Bertrand Tavernier, Lambert Wilson, Catherine Deneuve et Vincent Lindon

Copyright Institut Lumière / Photo Jean-Luc Mège

Catherine Deneuve

Copyright Institut Lumière / Photo Lea Rener

Catherine Deneuve

Copyright Institut Lumière / Photo Sabine Perrin - Jean-Luc Mège