---
PostED ON OCTOBER 9, 2016 AT 6PM

---
Hosted by the precise Stéphane Lerouge, the master class dedicated to Bruno Coulais, who recently composed the music for Bertrand Tavernier's latest film, Journey Through French Cinema, proved to be an eminently gentle artist, fascinated by his discipline. Highlights.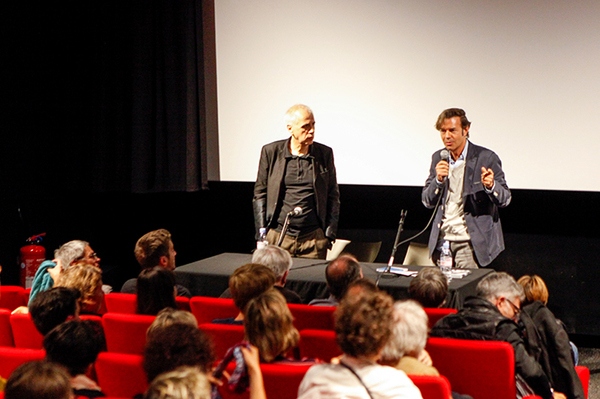 © Institut Lumière / Photo Caroline Gardin
"The dream of the composer, is for the filmmaker to tell him, 'Thanks to the music, you made me discover a part of the film that I never would have thought of.'"
"The difficulty of the composer's job is to knowing how to begin the composition. One can start with sounds... Of a slight camera movement or of the actors."
"Music that makes you laugh at comedies, there's nothing worse. It shows us what we are already seeing."
"There are films that do not need music. I think of the films by Rohmer that are very literary."
Two characters neon-lit in a kitchen, or eating in a brasserie - it's very difficult for me to compose the music. I am very sensitive to light."
"Films should be an experimental field for composers."
"I continue to have children to steal their toys and use them for my compositions. One must have imagination. If I could, I would compose the sound of a lawn mower."
"The music becomes a character who observes and prowls about."
"Film music got me out of my room. I composed with Tibetans, Corsicans, with Nick Cave, Robert Wyatt!"
"I must confess, I hate to read scripts. I never imagine the music while reading them."
"Music has a manipulative power on the image."