---
Posted on saturday, october 15, 2016

---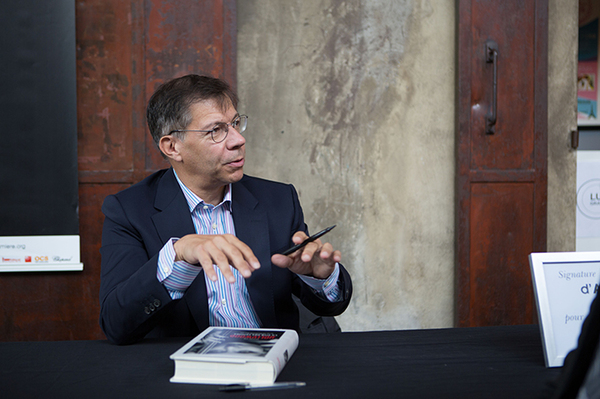 © Institut Lumière / Photo Julien Roche
What was the driving force that inspired you to write this exhaustive inventory account, practically encyclopedic, about a myriad of female figures that embodied the Golden Age of Hollywood actresses?
In the beginning, there was a feeling of injustice because our era attaches itself to the superficial value of things. Moreover, the communications of Hollywood studios left a hegemonic trace, where the fascination of the beauty of the great Hollywood actresses was undermined by a sort of contempt for their personality. But these were very strong women, who put a lot of work and intelligence in their art, and who have often fought against the studios to escape the insipidness we wanted to lock them up in. The result is Bette Davis, Katharine Hepburn, Ingrid Bergman, Marlene Dietrich, Barbara Stanwyck... scores of actresses who built an original body of work and were sometimes activists. Even Rita Hayworth, whose devastating beauty we celebrate endlessly, drew her special allure from the fact that she was an exceptionally talented dancer. She was a favorite partner of Fred Astaire, who was not known for his indulgence.
All this led me to be interested in other actresses who had been often forgotten, but whose films are a treat. Margaret Sullavan, who stars with James Stewart in The Shop around the Corner, is obviously a great actress: she deserved a chapter. Ditto for Rosalind Russell, Kay Francis, or for actresses of film noir, which occupies a substantial part of the book. And while I was on the subject, why not devote a chapter to Jeannette MacDonald, the soprano who sang Gounod onscreen and whose films were a hit all the way to the Midwest? One thing led to another, and I ended up with one hundred actresses and over one thousand pages of text...


Looking back, even if nothing definitive occurred, one recognizes the debt today's actresses, female directors and producers owe these pioneers of emancipation, previously frozen in their remarkable beauty and here reverently brought to life. Do you feel that this fight continues, and if so, who leads it in an indisputable and productive manner in the current studio system?
I think some current actresses are actually in the tradition of the female stars of the era. Meryl Streep and Barbara Streisand have long been its incarnation. More recently, I would say Cate Blanchett and Julianne Moore. And outside of Hollywood, I would cite Catherine Deneuve and Gong Li, both honored at the Lumière festival 2016. Deneuve and Li have this extraordinary ability that the stars of the golden age possessed - to create magic, while allowing women from each of their countries to identify with them. When Joan Crawford Letty appears in Linton in 1932, she is wearing a dress of which hundreds of thousands of copies will be reproduced in in the following weeks. This demonstrates that she had captured the air of her time and created a strong bond with the people.

Can you tell us exactly how long it took you to write the book?
Five years, two of them full-time. There have been ups and downs, but at the end of the road, I did not want to disappoint Thierry Frémaux and Bertrand Tavernier, who anxiously awaited my book and did me the ultimate honor of publishing it. The outline of the book came to me after two years of work, while having a walk in Dinard with my partner, who watched 400 films with me, out of the 1200 that I watched to write this book!

The iconography of the book is of outstanding quality… Did you find it difficult to access archives of the great studios of the day?
The Institut Lumière, in the person of Julien Camy, who was my daily contact, and Actes Sud, whose expertise is well-established, have done a tremendous job with the graphics and layout. Their work resulted in a beautiful book one actually wants to read - not simply something to leave on the coffee table! I am immensely grateful to them.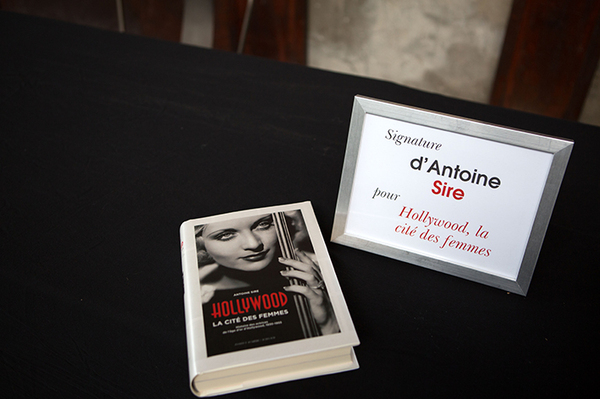 © Institut Lumière / Photo Julien Roche
Interview by Pierre Collier
---
Hollywood, la cité des femmes by Antoine Sire (Actes Sud / Institut Lumière), 1248 pages. Suggested price: 59€.