---
PostED ON OCTOBER 9, 2016 AT 5PM

---
We flip through his program, we double-check our camera battery. In the Pathé Bellecour theater on Sunday afternoon, we're jumpy with impatience. In a few minutes, the film Beyond the Valley of the Dolls will be screened, but there's only one thing on the festivalgoers' minds: Will Tarantino really show up? Is he going to shout « Vive le cinéma ! » or perhaps « Vive le Festival Lumière ! » ? The suspense is unbearable… dissipated a few seconds later, with the arrival of Tarantino, or "Quentin" for those in the know.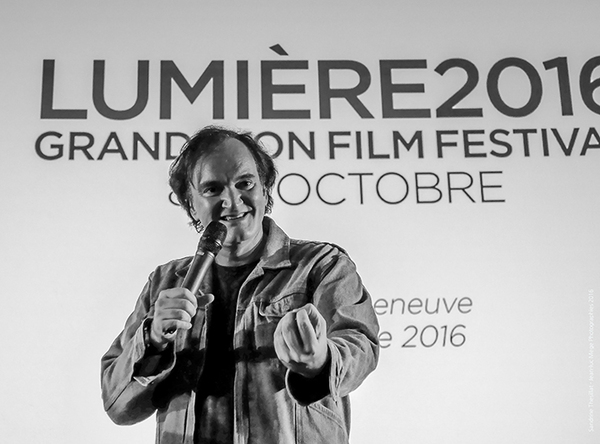 © Institut Lumière / Photo Sandrine Thessilat
Three years after his triumph at the Lumière festival, the director of Pulp Fiction returns to declare his love for the cinema before captivated audiences. And to celebrate three years of movie passion, since his Lumière award, the filmmaker / film-buff did not come empty-handed: "Quentin" concocted a selection of films from the year 1970. From a very British mystery to a thriller served with Chabrolian sauce, from a horror flick by Argento to a saucy satire by Altman - the menu is enticing!
To whet our appetite, the filmmaker chose Beyond the Valley of the Dolls by Russ Meyer. A classic of the year 1970 for Tarantino:
"This film was really a turning point in the history of American cinema: it passed from old Hollywood to new Hollywood. It's the moment when erotic movies started leaving the porn theaters and became accessible to everyone. There was real hope to see this kind of movie beyond its own borders."
Written by Russ Meyer and Roger Ebert, Beyond the Valley of the Dolls is also one of the rare erotic films produced by the conservative 20th Century Fox. "The film was a huge success and it was actually really embarrassing for Fox!" confirmed Tarantino. For Americans, the dream of emancipation of erotic cinema was short-lived, but fortunately for those of us at Pathé, "Quentin" likes to prolong the pleasure! "Let's pretend that this hope had materialized, at least for the time we're watching the film." As he would say himself, "Give it to Mister Meyer! "
Laure Lepine
---
The remainder of the program Quentin Tarantino : 1970